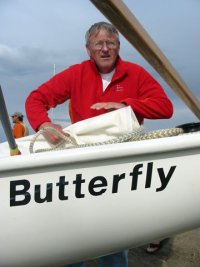 You have come to the source for Butterfly sailboats, Butterfly sailboat parts and information. Why? Jim has over 40 years of close association with the boat, the class, and the builders - not to mention his 12 National titles! This is the place to begin - and end- your search for anything you want, or want to know, about the Butterfly.
Looking for Parts, Sails, Accessories? click here!
Designed over 40 years ago as a mini-scow ("scow" refers to the shape of the hull), it has, like the other, larger scows, withstood the test of time and is still one of the very best small 1 to 2-person boats available. More comfortable to sail, with fewer specialized parts and pieces, and easy to sail, have made it one of the great simple designs of all time.
With plenty of room for 2, its a great kids boat to learn on and to develope skills to advanced levels - or to just have fun on the lake. For adults, it is easy to get comfortable in - one of the major problems with most boat this size - thanks to the deeper and roomier cockpit so you don't have to sail with you knees under you jaw. Iit is easy enough to sail that learning takes place fast.
And if racing is the goal, this boat shares with the other bigger scows the tradition of women sailing equally with men, but adds on it by making it possible for kids to sail equally with adults - all because there are no gimmicks or gadgets or special skills beyond simply being able to sail well.

With close to 11,000 built, this boat has succeeded in the marketplace by being a success on the water.

Its the ideal, simple, one-person recreational racing boat, or two-kid youth play, learn, or race boat.
Contact us for availability and current pricing.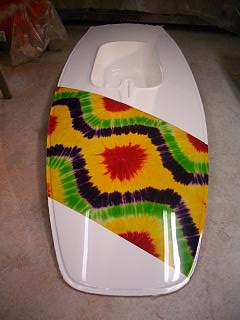 You might want to check out our Gear-->Dollies page.

We also offer Jim's own tiller extension, the right length, and with the right swivel connector that doesn't flip the extension away from you if you happen to let go. It is $60, you can find it on the Butterfly-->Parts page, which lists the Butterfly parts we normally stock.
Hull: Scow design

Length: 12'2" to extensions of rub rail, 11'11" LOA exclusive of rub rail
Beam: 54"
Hull Depth: 15"
Hull Weight: 135 lbs/61 kg
Crew Capacity: 600 lbs/273 kg
Sail Area: 75 sq ft
Mast Length: 18', breaks into 2-9' sections for travel/storage
Nominal Draft: 26"
Designer: John Barnett
Year First Built: 1961
Number of Boats Built: 10,700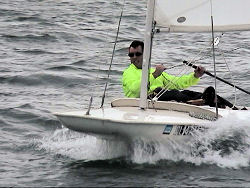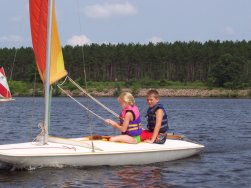 All Ages Welcome! The ONLY small boat suitable for two kids or for single-handing by adults.